License plate design has interested me for a few years. It's surprising how little thought seems to have gone into so many plate designs, considering their high visibility. My wife and I have spent hours debating the merits of the Texas plate, and our DC plates have gained national attention recently after President Obama agreed to use the District's "Taxation Without Representation" plates on his presidential limousine.
This month, the Automobile License Plate Collectors Association announced their pick for Best Plate of 2012, the deeply mediocre effort from Nebraska that celebrates the Union Pacific Railroad Museum. Runners up included fairly rubbish plates from Nunavut, Oregon, and Arkansas. The criteria for the vote are supposedly "legibility and attractiveness."
Using this same criteria, I've curated a collection of the ten best standard US license plates of all time. They are:
The shape of Nebraska invites its use as a frame for the plate content, and this design duly obliges with a restrained and easy-to-read rendering.

Simplicity is the byword for Colorado's 1983 plate, which cleverly uses the embossed edges to give both the thoughtful typography and the mountains a pleasing sense of depth.

In 1915, motorists and pedestrians alike had time to appreciate this lovely monogram as it rolled past at the 8 mph speed limit within municipalities.

Pleasing colors, a subtle background and a jaunty swash on the "n" make this Washington plate from 1991 one of the best.

Though the same can't be said for New York drivers, the 1986 plate design is harmonious and elegant, with the Statue of Liberty sitting comfortably amid the surrounding elements.

The oversized and unapologetic bucking bronco makes this 1969 plate from Wyoming a symbol of the West.

The fabulous ornate script on North Carolina's 1941 plate is a real treasure, and remains a perfect demonstration of how legibility doesn't necessitate blocky, sans-serif type.

Strong symbols and an appropriate color palette benefit this New Mexico plate, which just edged out the 2011 version.

Featuring unique typography and a vibrant color palette, the Alaska plate has a tremendous amount of character while still largely adhering to the standard layout of elements.

Who can argue with slanted type that fits so snugly into the state's silhouette? Though the task was made easier by having fewer characters to accommodate, the Illinois plate from 1927 is simply fantastic.


And, as an added bonus, here are the best plate designs for each state:
Alabama – 1967

Alaska – 1965

Arizona – 1980

Arkansas – 1997

California – 1982

Colorado – 1983

Connecticut – 1989

Delaware – 2010

District of Columbia – 1985

Florida – 1983

Georgia – 1992

Hawaii – 1981

Idaho – 1970

Illinois – 1927

Indiana – 1985

Iowa – 1953

Kansas – 1965

Kentucky – 1937

Louisiana – 1989

Maine – 1987

Maryland – 2005

Massachusetts – 1968

Michigan – 1968

Minnesota – 1962

Mississippi – 1981

Missouri – 1977

Montana – 1975

Nebraska – 1970

Nevada – 1985

New Hampshire – 1972

New Jersey – 1979

New Mexico – 1969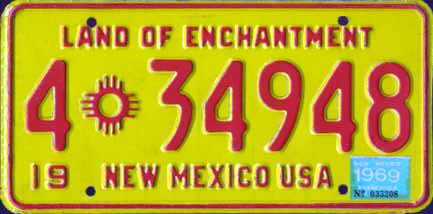 New York – 1986

North Carolina – 1941

North Dakota – 1985

Ohio – 1915

Oklahoma – 1983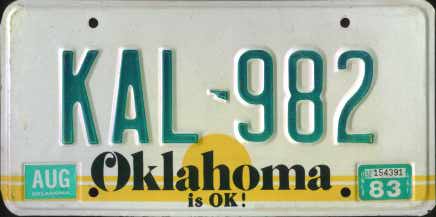 Oregon – 2003

Pennsylvania – 1977

Rhode Island – 1994

South Carolina – 1985

South Dakota – 1960

Tennessee – 1960

Texas – 1975

Utah – 1979

Vermont – 1975

Virginia – 1975

Washington – 1991

West Virginia – 1996

Wisconsin – 1987

Wyoming – 1969