14 August 2018
Hiking the Pemigewasset Wilderness
For our second annual "men trip," my father, brother and I decided on a multi-day hike along the northern edge of the Pemigewasset Wilderness. We chose to balance the rigorous White Mountain trails with slightly cushy accommodations at three huts run by the Appalachian Mountain Club (AMC).
Day 01
44.160421, -71.6603306
I woke at 4:15am to catch my taxi to the airport. By 7:30am, I was in Boston, and worked until meeting Aaron at noon. Dad picked us up soon after and we were on our way to the White Mountains.
It was early, but it was also Friday, and we battled heavy traffic out of Massachusetts and into New Hampshire. We began to despair of reaching our hut in time for dinner, and it was 4pm before we were at the Old Bridle Path trailhead. The book time for our uphill, 2.3 mile hike is listed as 2 hours and 40 minutes.
We attacked the trail, reaching Greenleaf Hut in less than two hours and giving us time for a celebratory beer before sitting down to dinner. After eating we sat outside sipping Japanese whiskey, taking in views of the hills to the south and watching Mt. Lafayette mottle red as the sun set.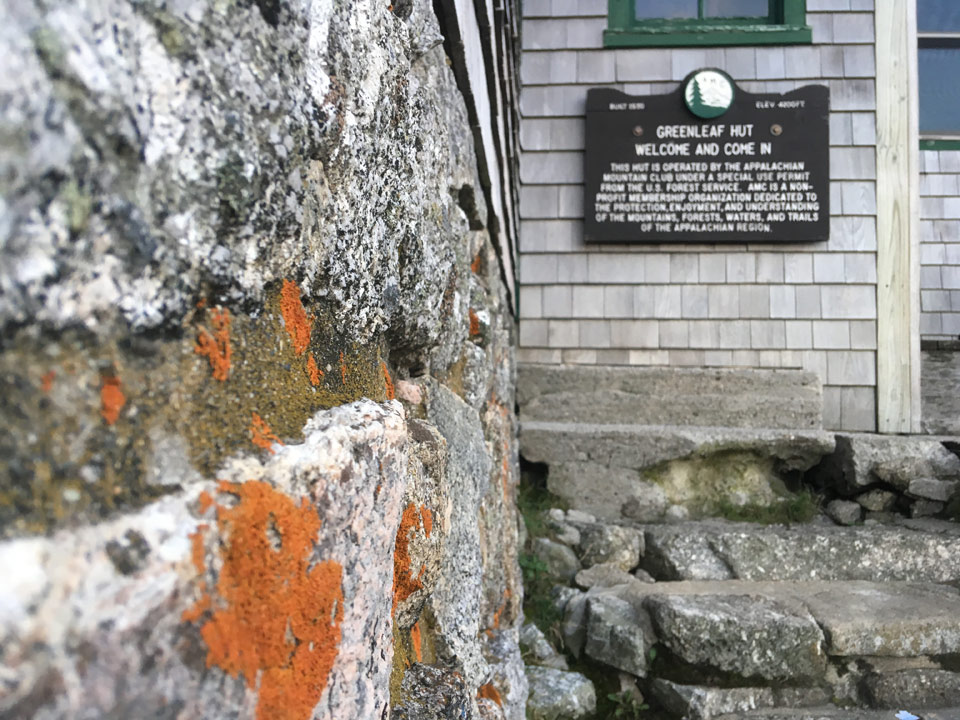 Back inside before bed, our conversation turned to politics and Aaron was relieved to learn that toilet paper did not need to be packed out when used at the huts.
Day 02
44.160421,-71.6625193
We were heading up Mt. Lafayette by 8:15 and soon reached the top, where we spent some time enjoying the vista and snapping pictures.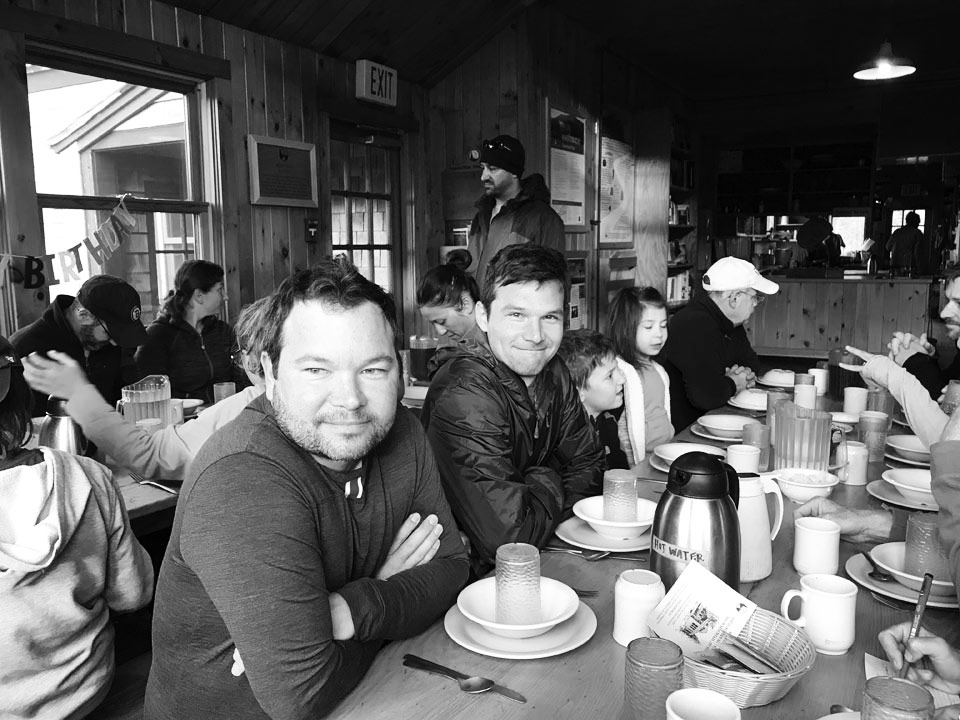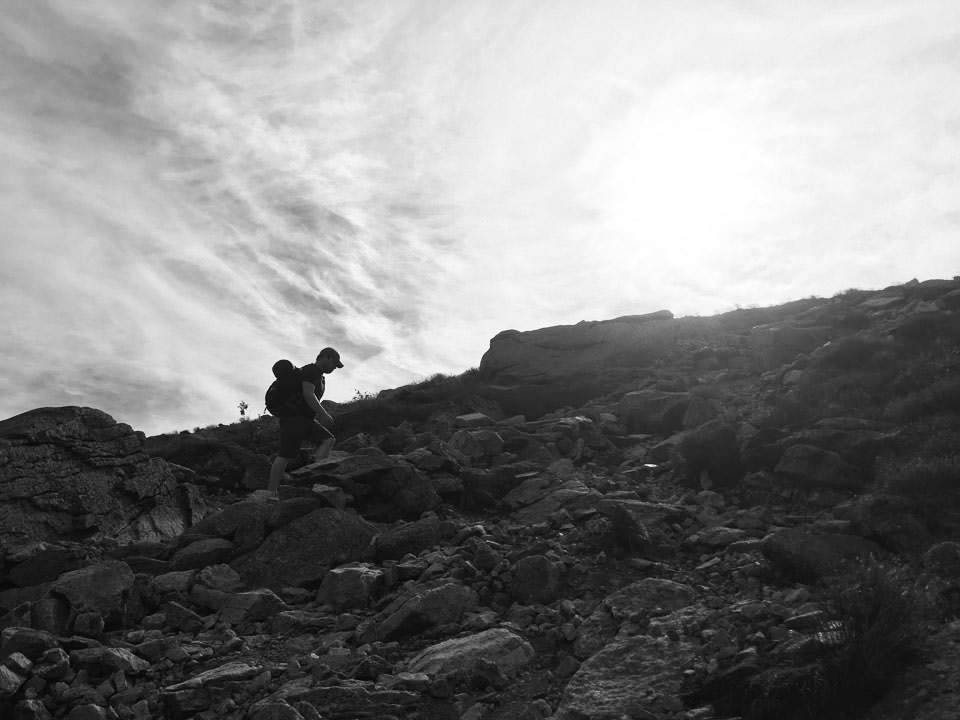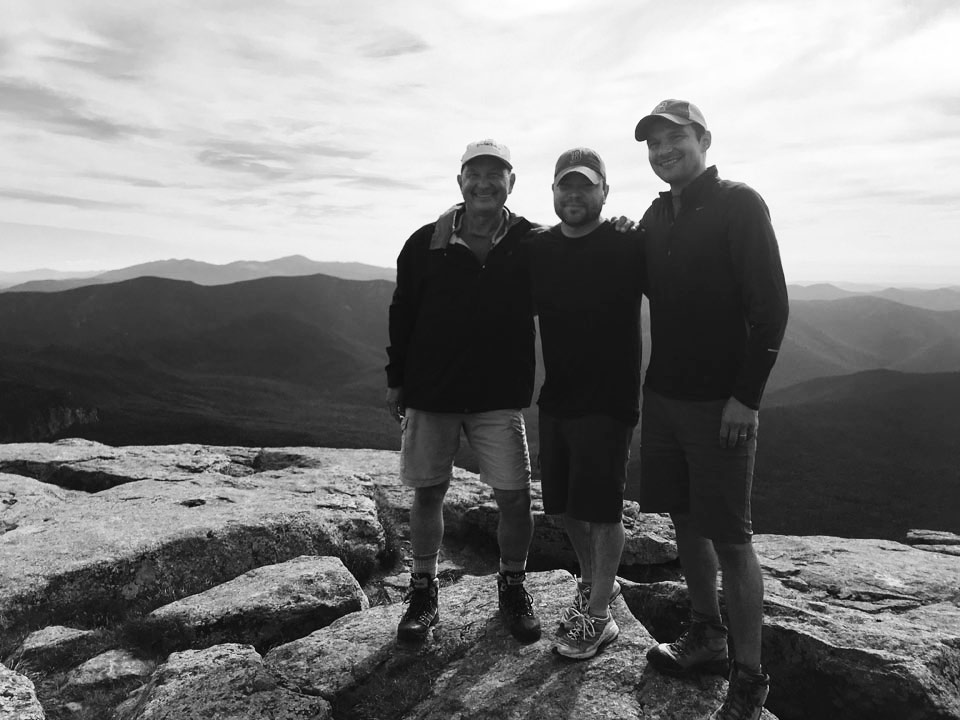 From there, our route took us down and up along a ridge to the windy peak of Mt. Garfield.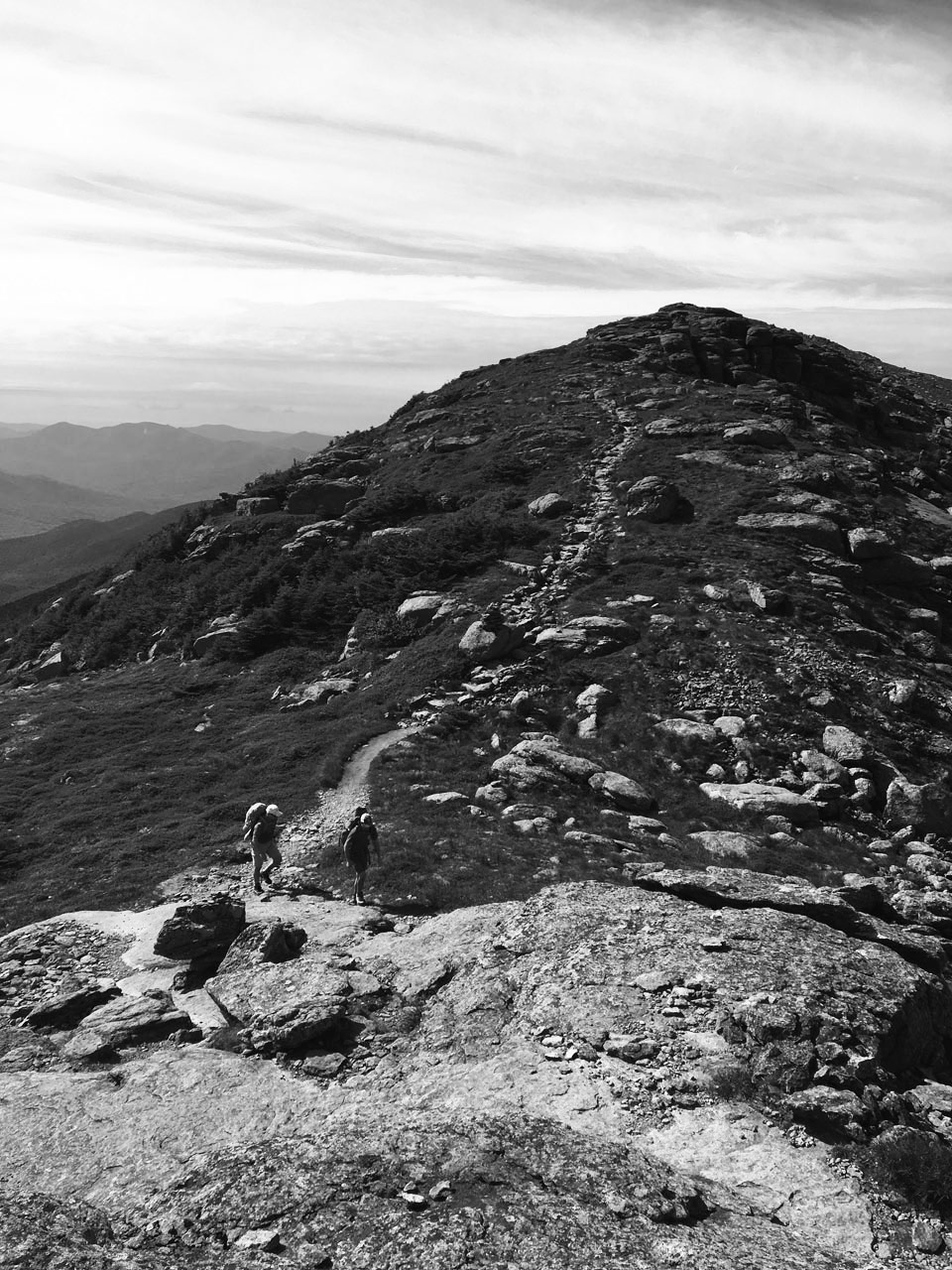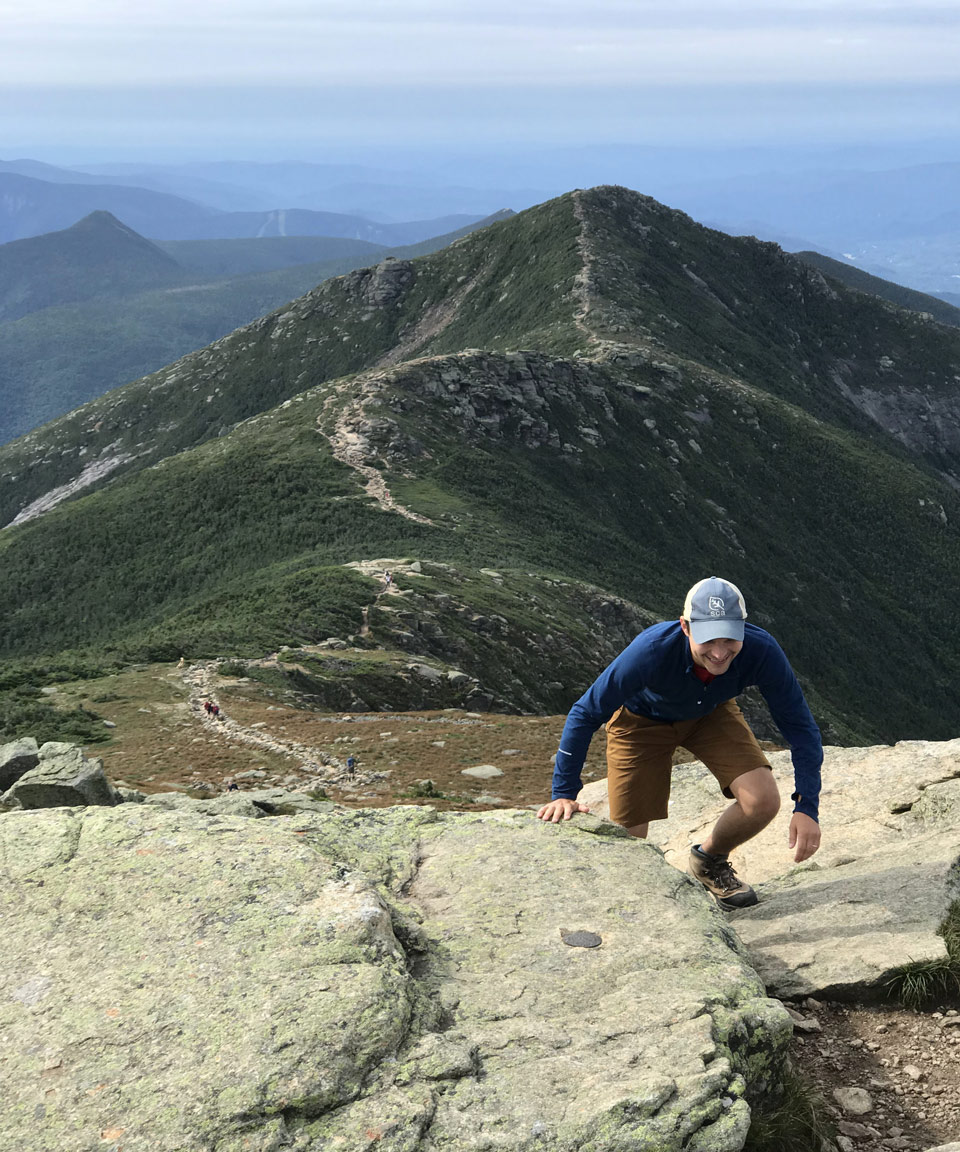 On went the layers and we hunkered down out of the wind with our lunch of protein bars, trail mix, and fruit. Dad kindly shared his chocolate-covered espresso beans for dessert.
The trail from Mt. Garfield to Galehead Hut included lots of up and down, with large rocks and a good deal of water. At times, the trail seemed to merge with the stream alongside and we had to pick our way carefully down the slick rocks.
We reached Galehead Hut at 3pm and picked our bunks. The place was hopping on Saturday afternoon with guests, day hikers and thru-hikers inside, on the porch, and clustered among the rocks and grass outside.
We cleaned up, relaxed, sipped beer and played Trivial Pursuit while we waited for dinner, which was served at 6pm.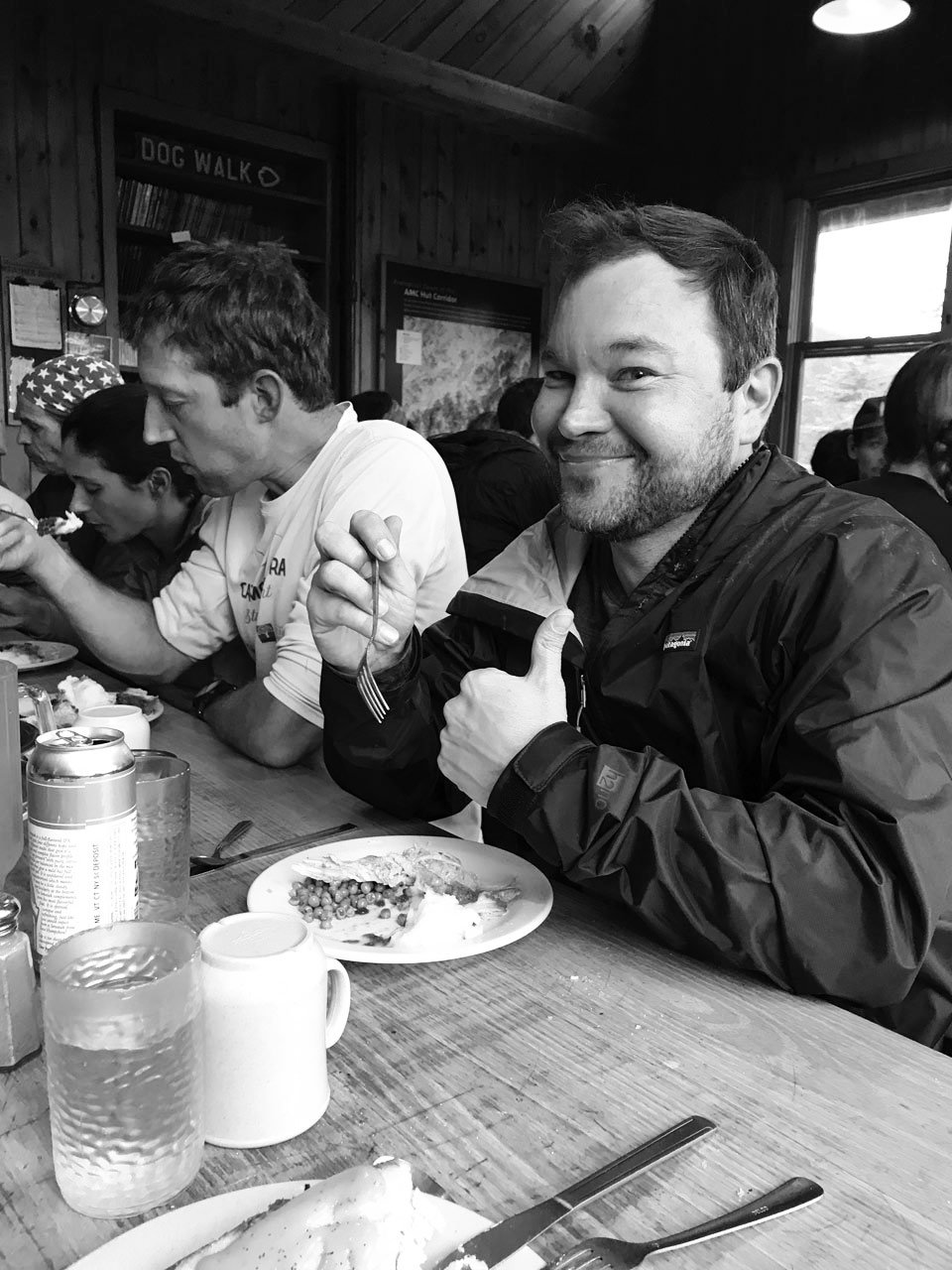 Dinner was turkey and mashed potatoes, with curried chick pea patties for the vegetarians.
We went to bed early to the sound of laughter and accordion music.
Day 03
44.1853418,-71.5824469
The accordion announced the start of a wet and misty day at 6:30am.
Breakfast at Galehead Hut featured oatmeal, eggs, pancakes and coffee. We took our time given the short distance we had to walk to Zealand Falls Hut.
Still, we were on our way up South Twin Mountain by 8:30 in a light drizzle that continued all day.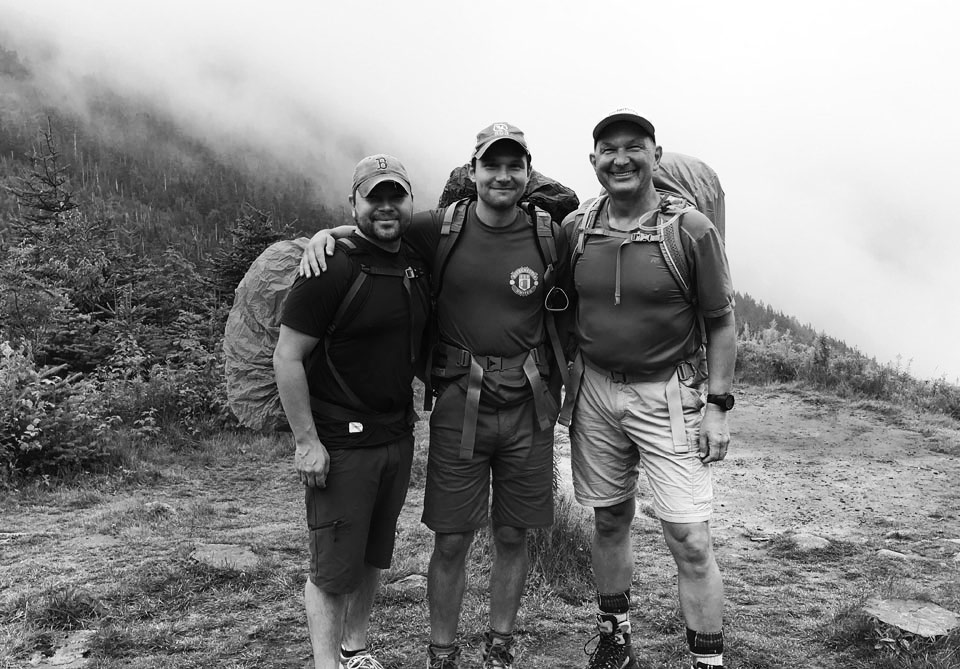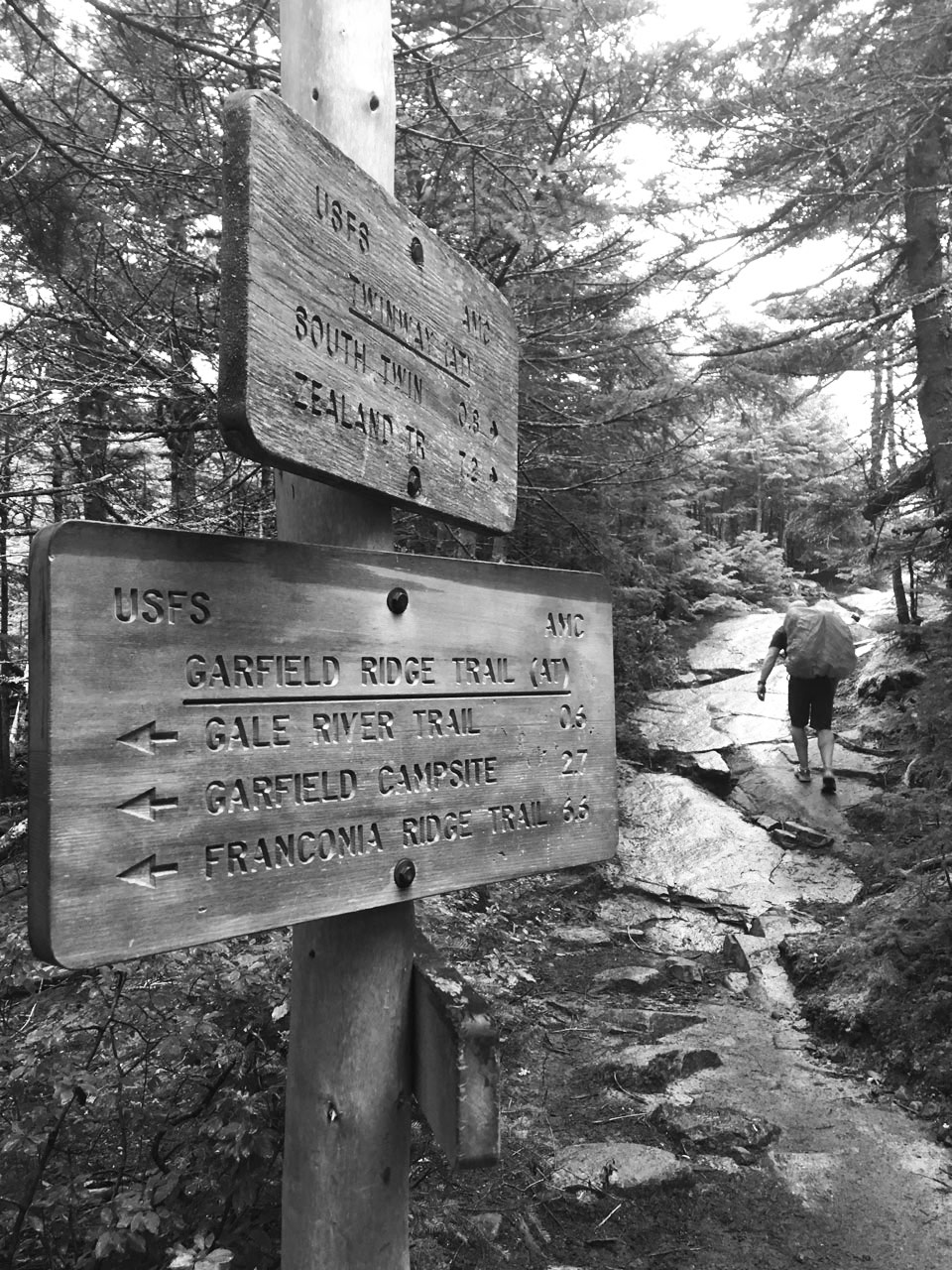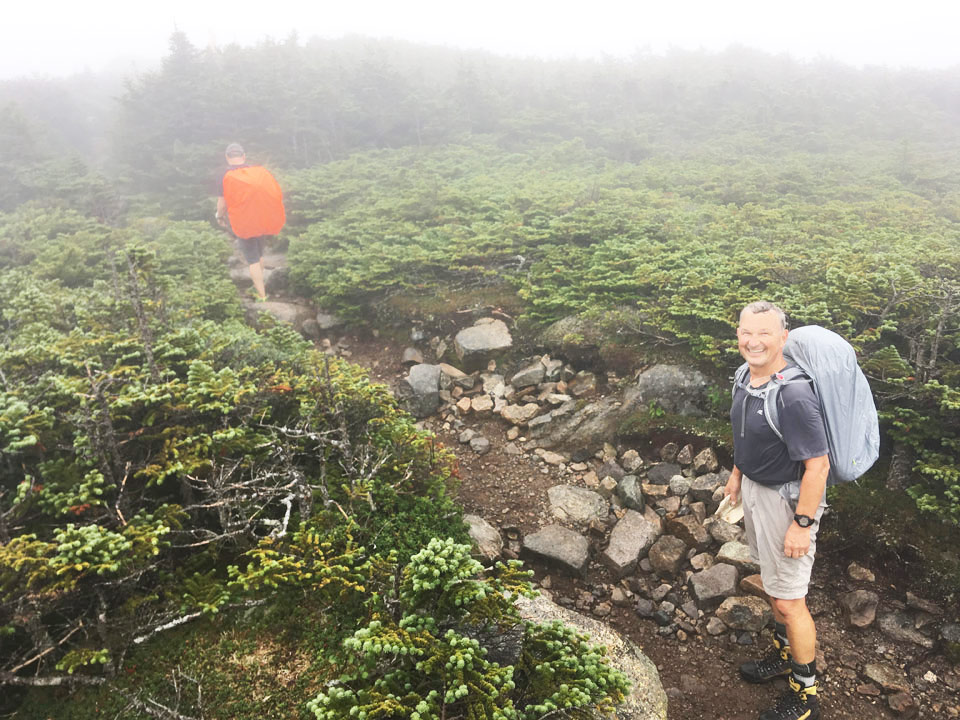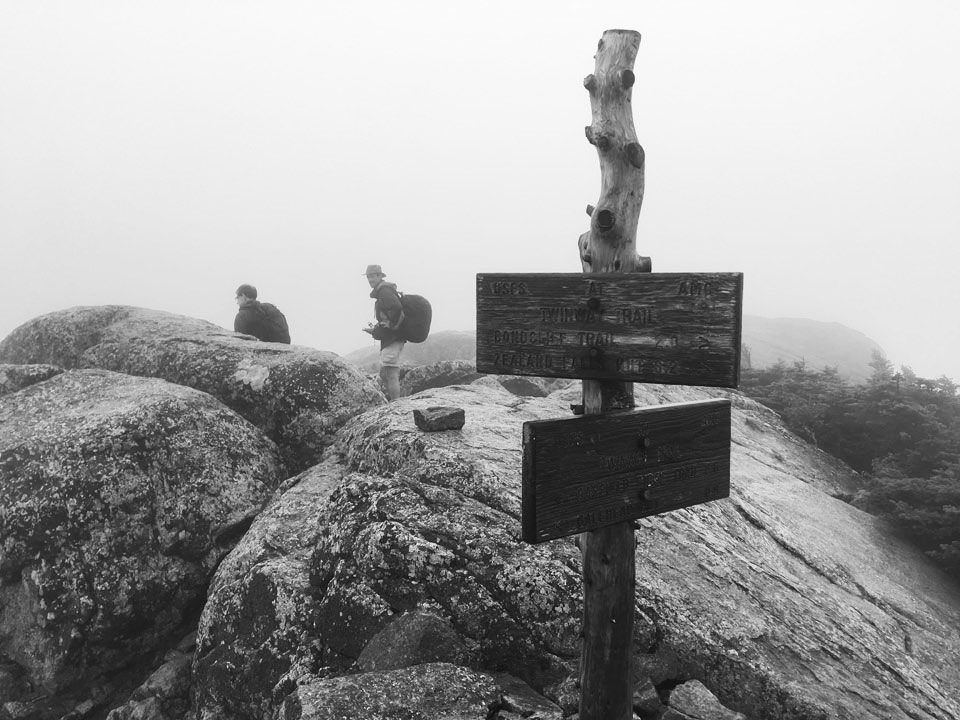 It was socked in by fog, and we didn't linger. Instead, we headed down, then up and over Mt Guyot.
From there the trail evened out for a very pleasant walk through boreal forest, rock, and water. The miles ticked by with gentle grade and engaging conversation about topics ranging from Onset to New Zealand to thru-hikers to the economics of the AMC huts.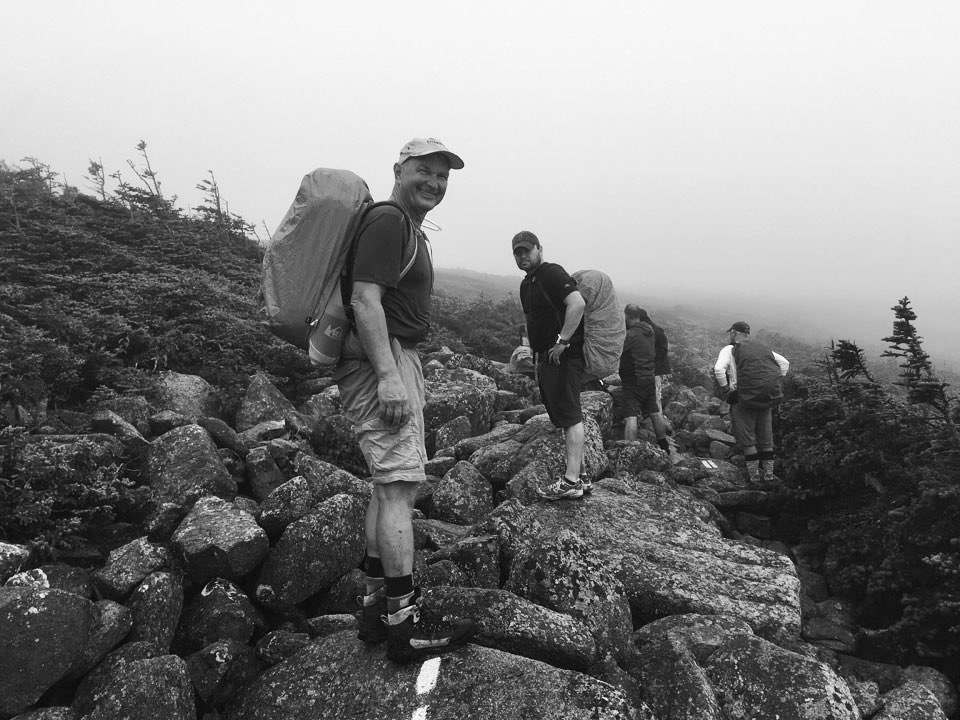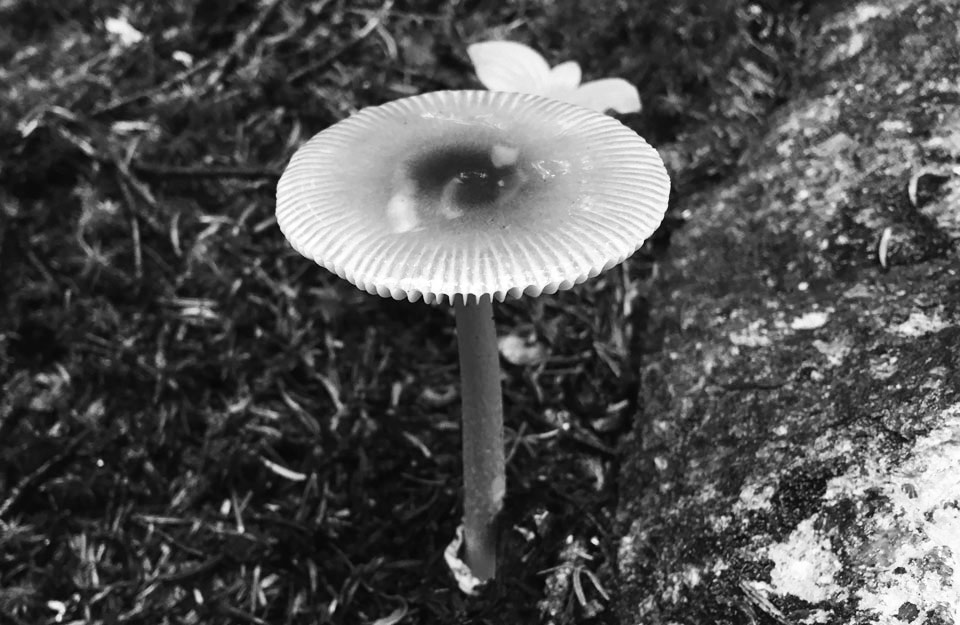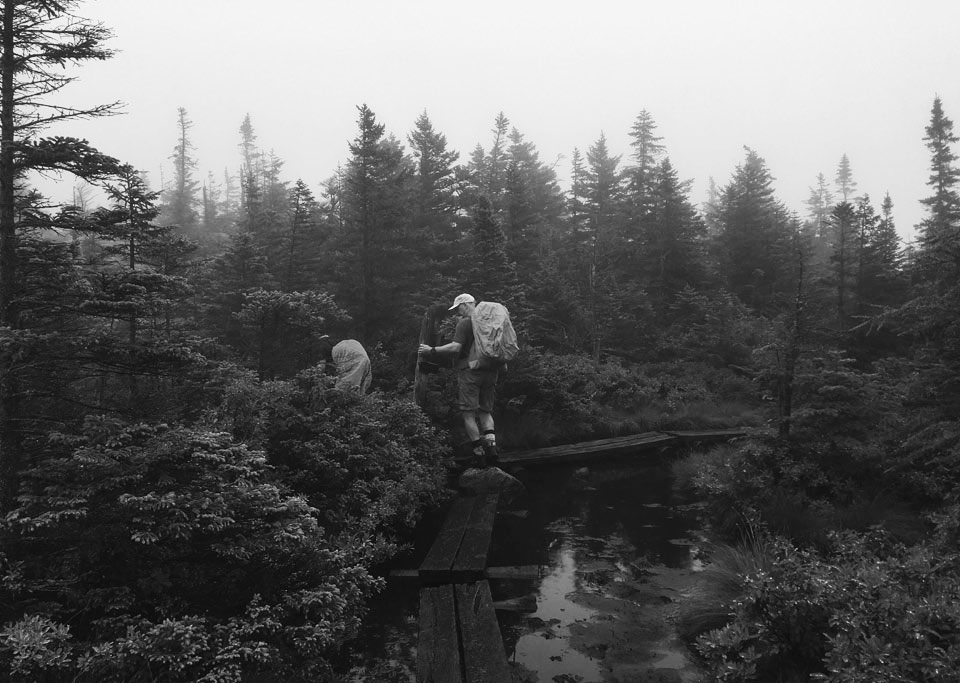 We opted to take the short spur to the top of Zealand Mountain, a peak so humble that it had to be marked with a cairn and a sign telling hikers they'd reached it. Without so much as a water break, we continued on to Zealand Falls Hut, which we reached around 1:45pm.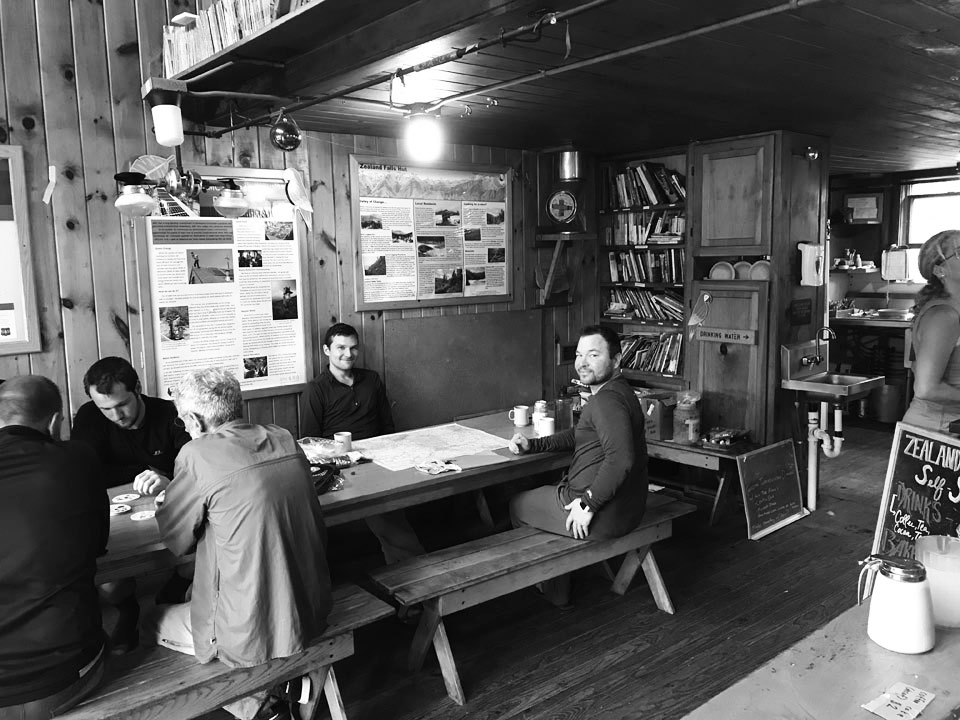 It was immediately our favorite–small yet spacious, and situated next to beautiful falls that could be heard all night. Each of us spent the afternoon reading or napping.
We gathered for a tasty dinner of soup, bread, salad, roasted broccoli, stuffed shells, and carrot cake. After dinner, we took our bottle of Yamato out to the falls and sat watching the sky darken, while the yellow lights of the hut twinkled through the pines.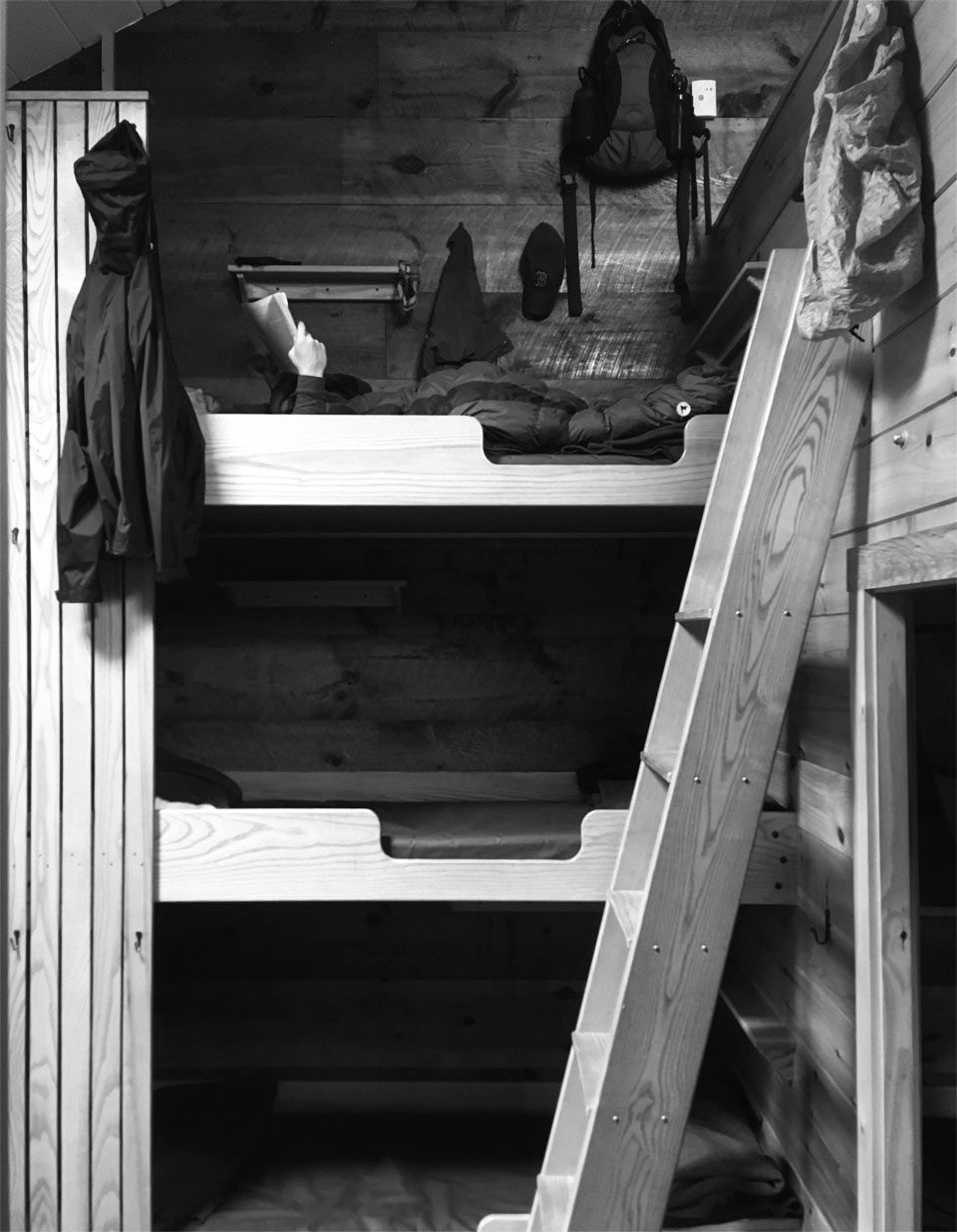 Day 04
44.195805,-71.494399
I woke before 6am, poured myself a mixture of coffee and cocoa powder, and walked out to the falls, where I found Aaron watching the mist roll up the valley.
Dad joined us and we watched the sun rise before the morning song and call to breakfast.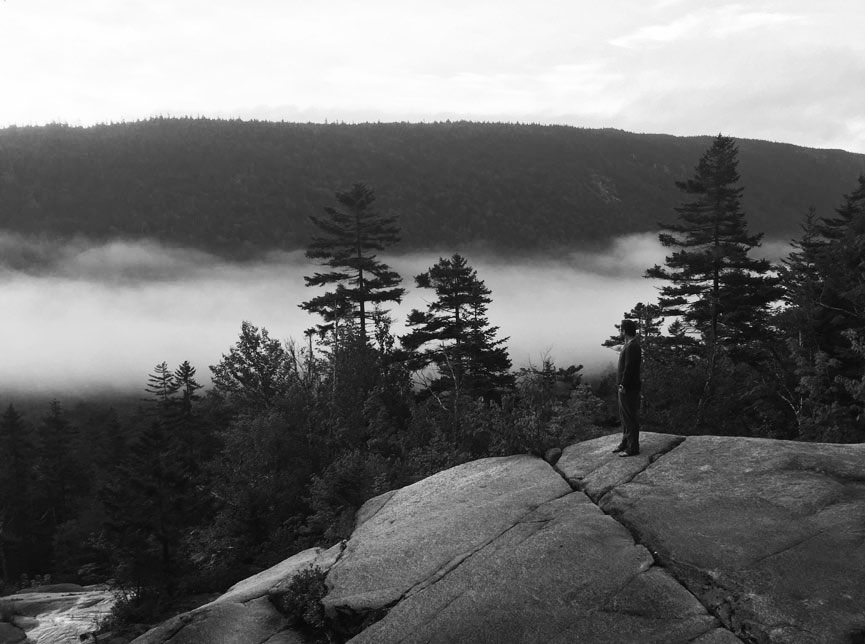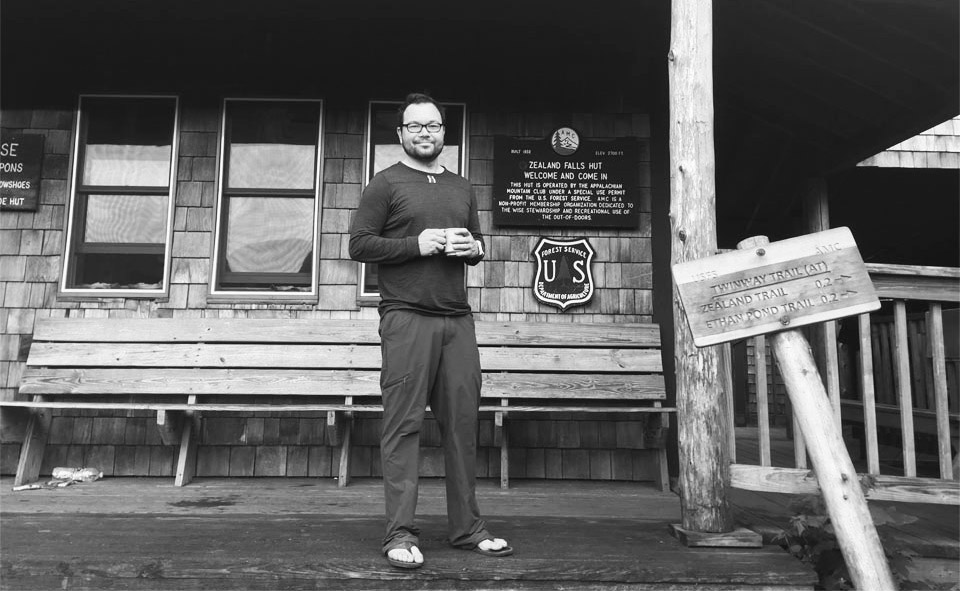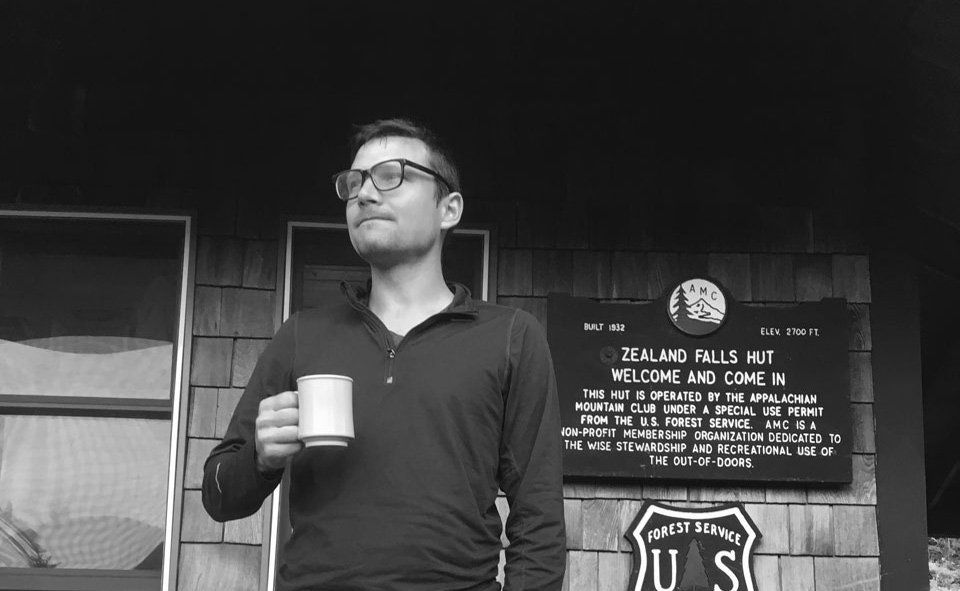 We packed up and left shortly after 8, the trail descending alongside the falls and then leveling off as it skirted around a lake and headed deeper into birches and evergreens, mosses and ferns.
It was another wonderful walk, with fragrances of pine, mushrooms and flowers. The trail rose to the saddle of Mt Tom, which we declined to climb.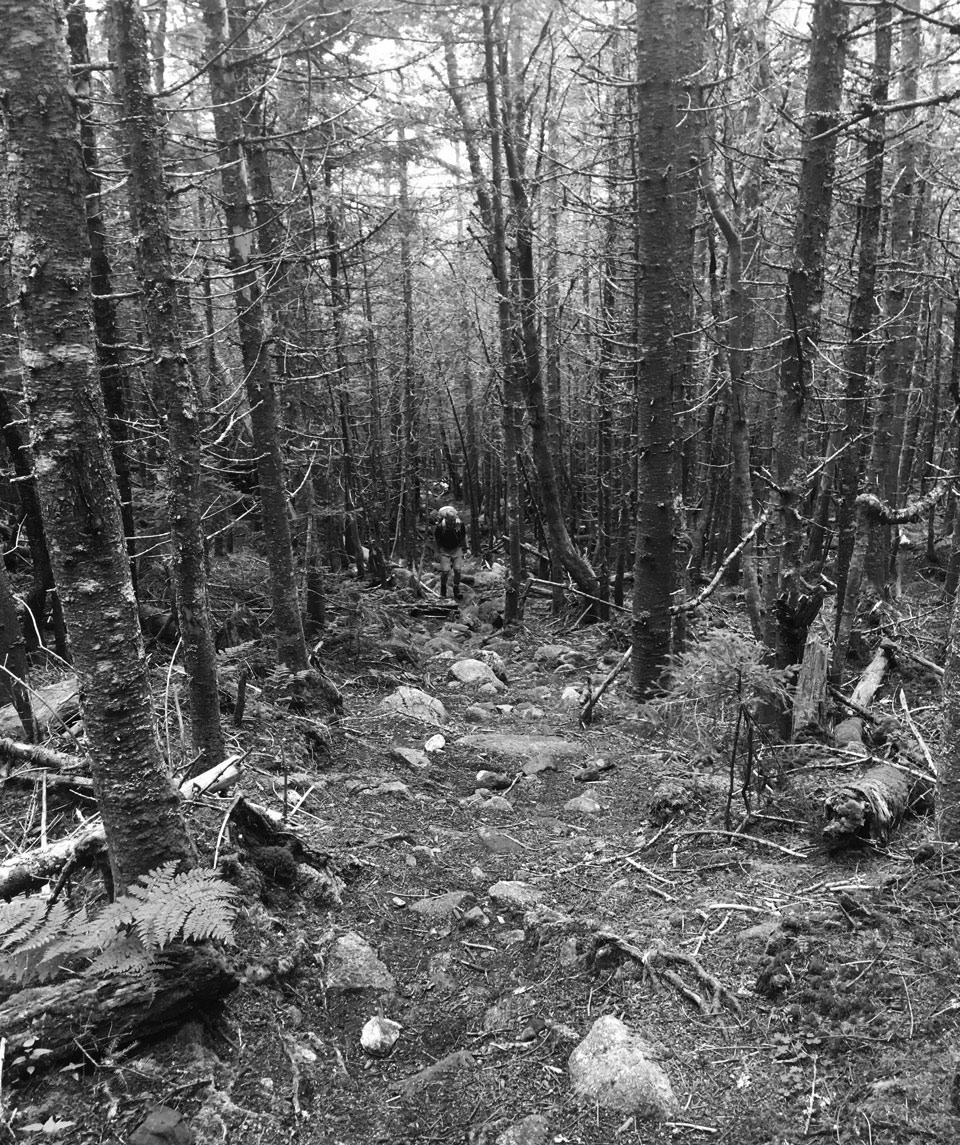 From there, the trail followed a creek where we emerged at Crawford Notch.
The wildflowers were blooming around the train depot and the lodge.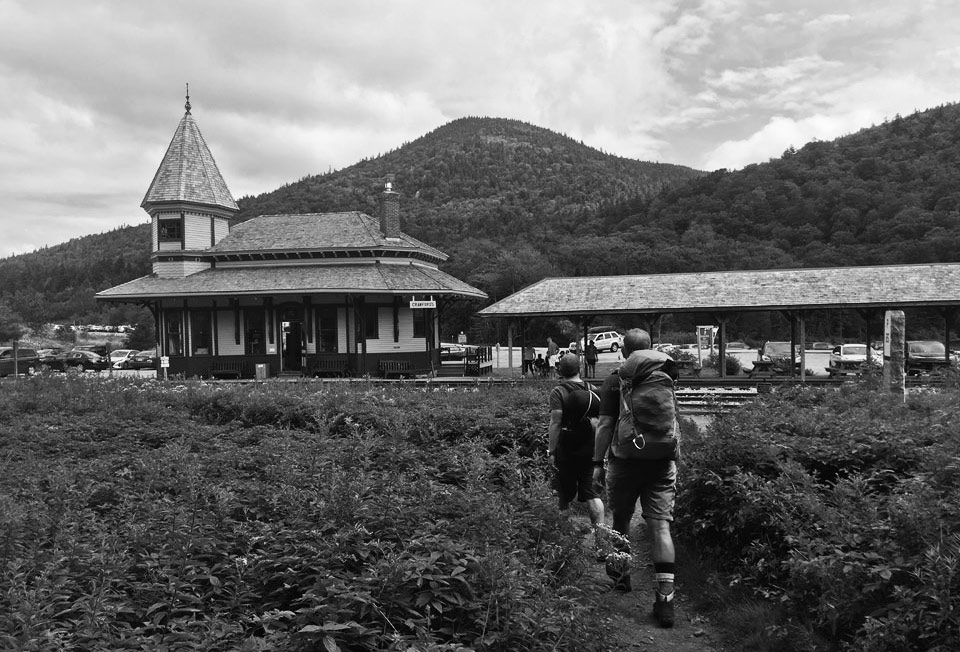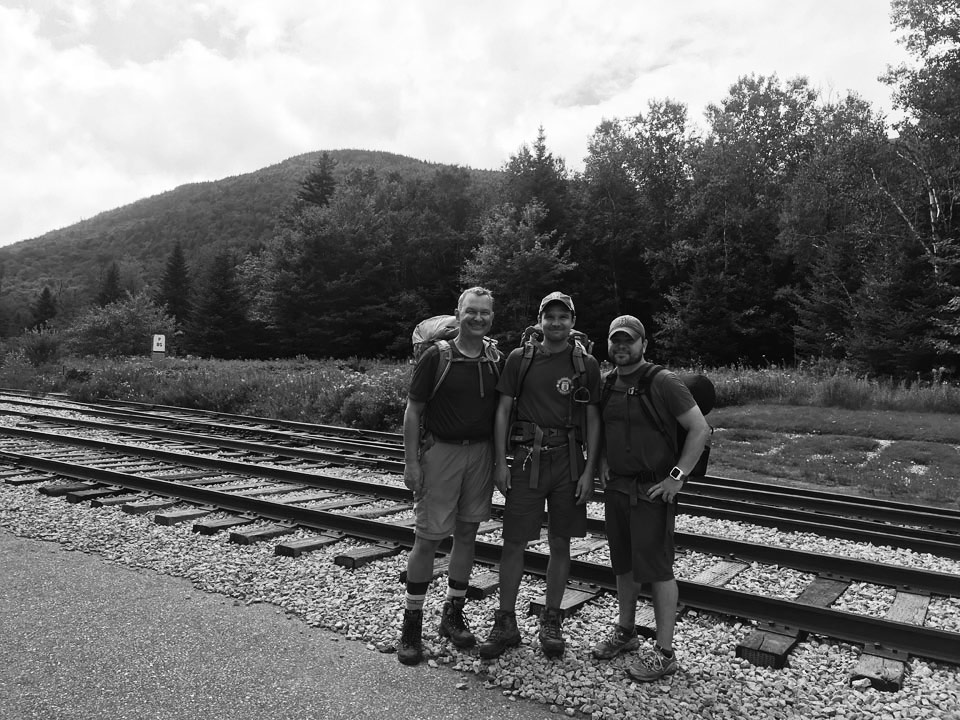 As a bonus, we were early enough to take showers at the depot and have a beer while we waited for the shuttle to bring us back to our car. We redistributed our gear and headed south, stopping at The Common Man for dinner before Dad dropped us back at the airport.
It was another great trip, full of conversation and camaraderie. We're already looking forward to next year.