7 October 2014
A Visit to Puerto Rico
Perhaps you're familiar with the concept of a babymoon. The basic idea is that an expecting couple takes a trip to a relaxing, ideally beachy destination to revel in each other's company and stock up on sleep before the arrival of a child. It also gives a very pregnant mom the opportunity to spend a lot of time in the water where the invisible hand of gravity doesn't press quite so hard.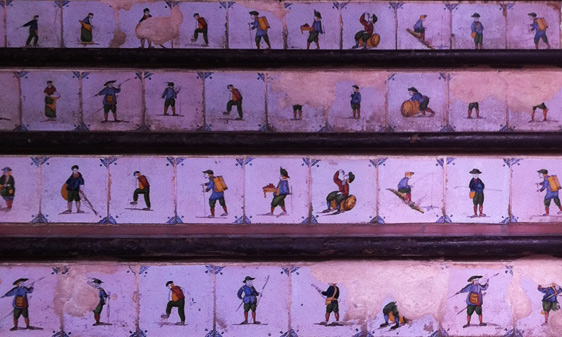 It was on this manner of errand that my wife and I repaired to Puerto Rico for a week. In addition to lots of swimming, reading, chatting, watching US Open tennis, and lazing around, we also went on two excursions. The first was into Old San Juan, a charming old city easily covered by foot. The buildings lent a seductive European flavor to the area, while the drowsiness of late summer kept most of the tourist hordes at bay.
The second outing proved less sedate. We zipped off in a rental car toward Jayuya, the highways giving way to back roads and then to back-back-roads and then to roads that seemed not to be roads at all. Our local guide, Google Maps, seemed unconcerned that Route 530 was little more than two strips of dirt running through the meadow of an abandoned farm. We picked our way through the landscape as softball-sized rocks clattered off the undercarriage of our rented vehicle.
After a mile of this, it seemed foolish to turn around and subject ourselves to the same punishment, so we pushed on into a rutted, muddy track that wound up through a wood. Like a hero in an old book, I asked my pregnant wife to walk ahead and roll away the larger rocks and branches so that our car could safely pass. Even then, there were moments when it seemed we could progress no further.
Finally, we rounded the last bend and found… a chain across the drive, blocking our access to the paved roadway beyond. Proving the theorem that two wrongs can make a right, we decided to prop up the chain as best we could with a bamboo pole on one side and my wife on the other, wrapping that chain in our clothes so as not to scratch the roof as we eased the car under. It was quite a sight, or would have been if anyone else was around.
This concluded the most adventurous part of our drive, though there were still several hours of rain-drenched, impossibly steep, and sharply curving roads ahead to fray the nerves. In between, we sampled fresh coffee at a plantation and visited a couple out-of-the-way museums. One told the tale of the island's very brief uprising in the name of independence, promptly quashed by American bombs. The other was devoted to the native culture, which we follow up with a swim in a river, surrounded by Taíno petroglyphs carved into the boulders. When lightning and rain came, we climbed out of the water and lay there, savoring the cool drops falling from above and the sun-baked rock warming us from below.
It was a good trip.