26 September 2021
Cycling the Lake Champlain Bikeway
After a year's hiatus due to the COVID pandemic, my father, brother and I decided to make our annual trip happen by biking around Lake Champlain. On Tuesday, I donned my best mask and boarded a flight to Boston, my first in almost two years. Dad collected my brother and me at the airport for the start of our adventure. We stopped at a rest area on our way to Vermont for a delicious, homemade dinner lovingly packed by Mom.
On arrival in South Burlington, we availed ourselves of the complimentary hotel cookies and tucked in for a good night's sleep.
Our first full day began with a serviceable breakfast at the Windjammer, followed by an excellent cup of joe from Vivid Coffee. We sipped our drinks as we strolled Church St, the pedestrian thoroughfare in downtown Burlington. Our bikes (two Niner RLT 9 Steel GRXs and one Niner MCR 9 GRX) were rentals from Outdoor Gear Exchange, a great shop with an unfortunate obsession with Papyrus. A highlight was the basement full of secondhand clothing and outdoor gear for all ages. 
The bikes were excellent, and we loaded them up for our shakeout ride up on Isle la Motte. On the way, we picked up lunch at Misery Loves Company (featuring a yummy pickle pakora), stopping to eat on the banks of Lake Champlain.
We began our shakeout ride at the Shrine of St Anne, site of the first Catholic mass in present day America.  
It was a good opportunity to make adjustments and get used to the bikes. The day was sunny and fine, and allowed us to take a second ride out and back along the Missisquoi Valley Rail Trail from St Albans. We were happy to avoid any collisions, despite numerous chipmunks darting across the trail in between our wheels.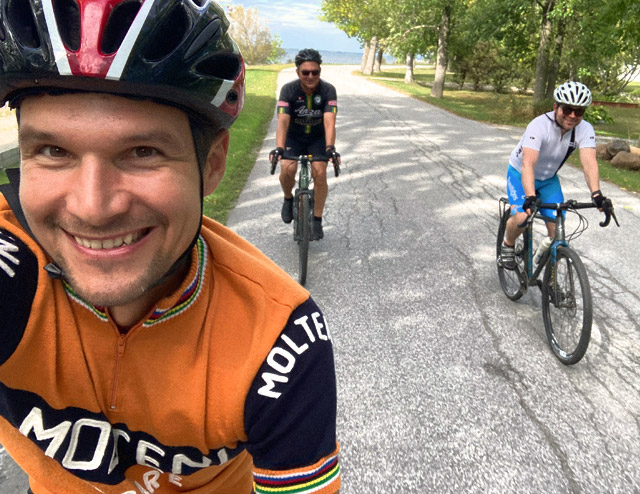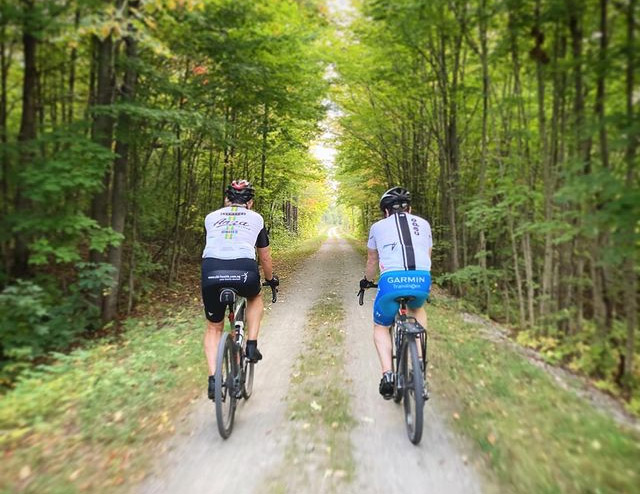 After a shower, we grabbed a beer at The Farmhouse Tap & Grill before a fantastic dinner at the renowned Hen of the Wood. Everything was delicious, particularly the mushroom toast and roasted broccoli. For dessert, Aaron and I split a tiny CBD chocolate truffle, which supplied plenty of comic material.
The next morning, we headed out straight after breakfast. The first bit of the ride took us along strip malls at the edges of South Burlington. Next came the outskirts, riding on the shoulder past large houses and manicured lawns, and then finally through beautiful farmland, where we had the road pretty much to ourselves.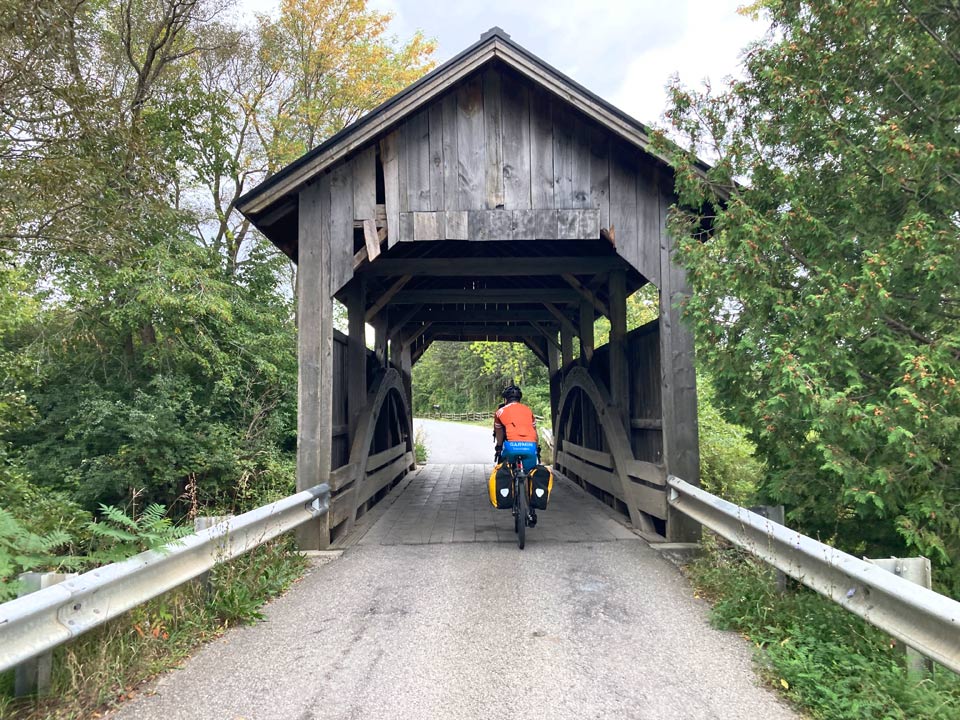 In the sunshine, we pedaled past rolling hills of grasses and grains, strewn with hulking hay bales and shrieking blackbirds. Before long, we arrived at the ferry crossing, $6.50 per bike for the 30 minute ride across the lake to New York.
It felt lovely to be on the water and take a break from the saddle as the sun sparkled on Lake Champlain. Initially, the New York side of the lake looked promising. We passed lovely houses and apple orchards. Much of the time, there was the regular sound of steady pedaling, broken only by the ticking pawls as we coasted down little dips.
But after a while, we found ourselves on an incline, riding alongside a lengthy stretch of road work. As we ground steadily uphill on a narrow shoulder next to the reeking asphalt, huge dump trucks barreled past, sending bits of gravel pinging against our helmets, legs, and spokes. It was hot work, but our reward was an easy downhill to Ausable Chasm, where we stopped for a snack and a look around.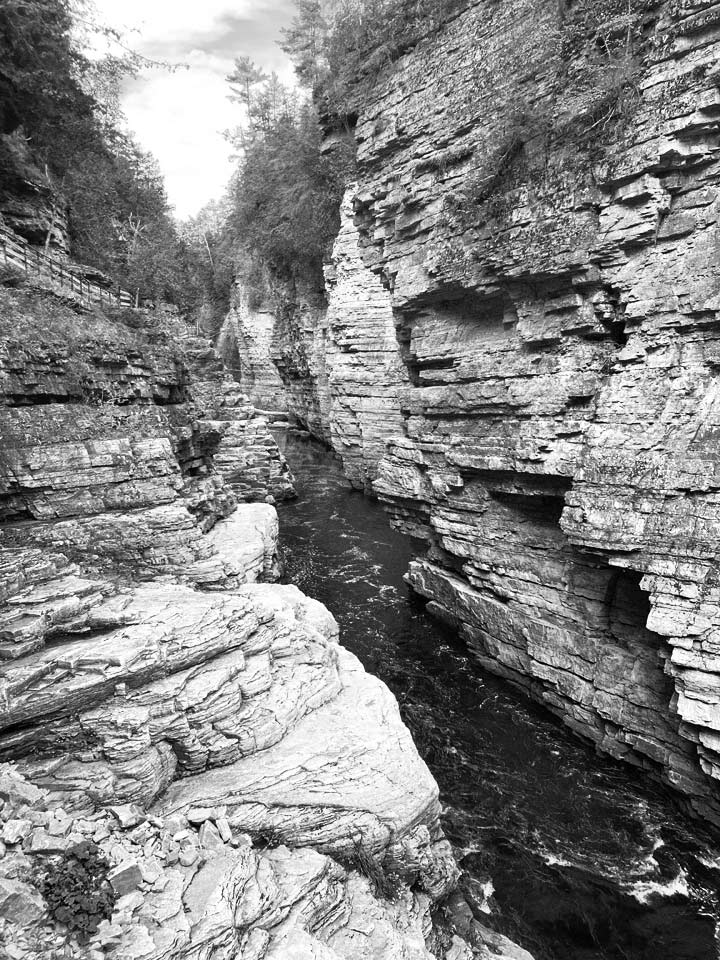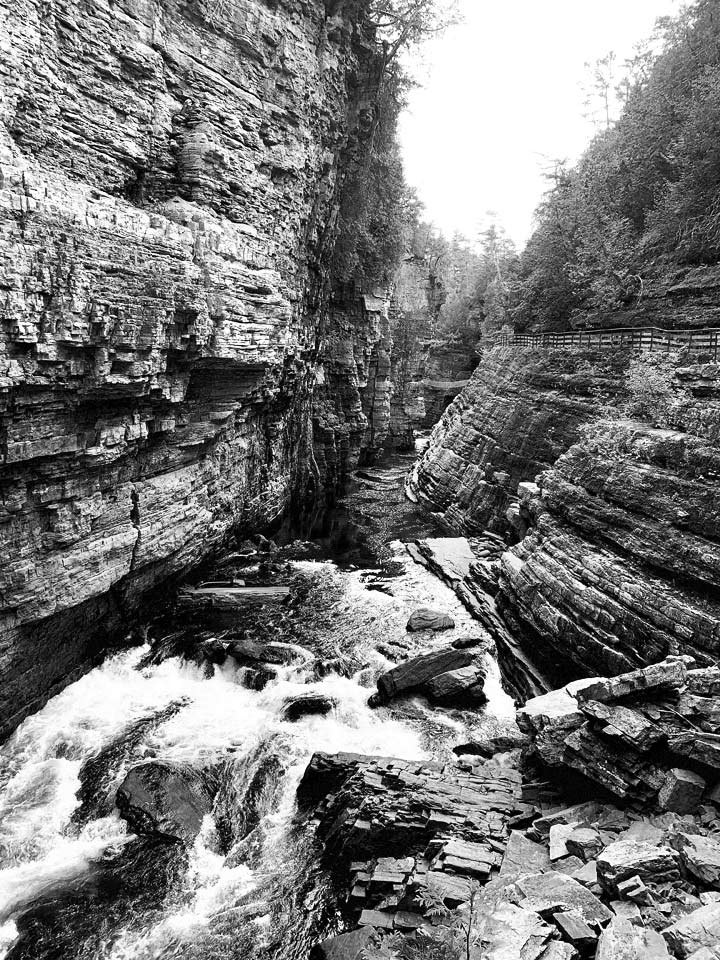 Despite its billing as the "Grand Canyon of the Adirondacks", I'd never heard of Ausable Chasm before the trip. I was pleasantly surprised, despite having to pay a fee to walk the canyon. There were numerous falls and interesting rock formations, on a scale that I hadn't expected. Apparently it's a popular destination for rafting and rock climbing. We enjoyed our stroll, refilled our water bottles, and hopped back on the bikes for the last leg of the day into Plattsburgh. 
The route to our hotel took us through the SUNY campus, a nice part of town with grassy plots and attractive if slightly dingy older houses. The final stretch, though, took us along a busy highway lined with big box stores, and into a large strip mall where we finally stopped at the Comfort Inn.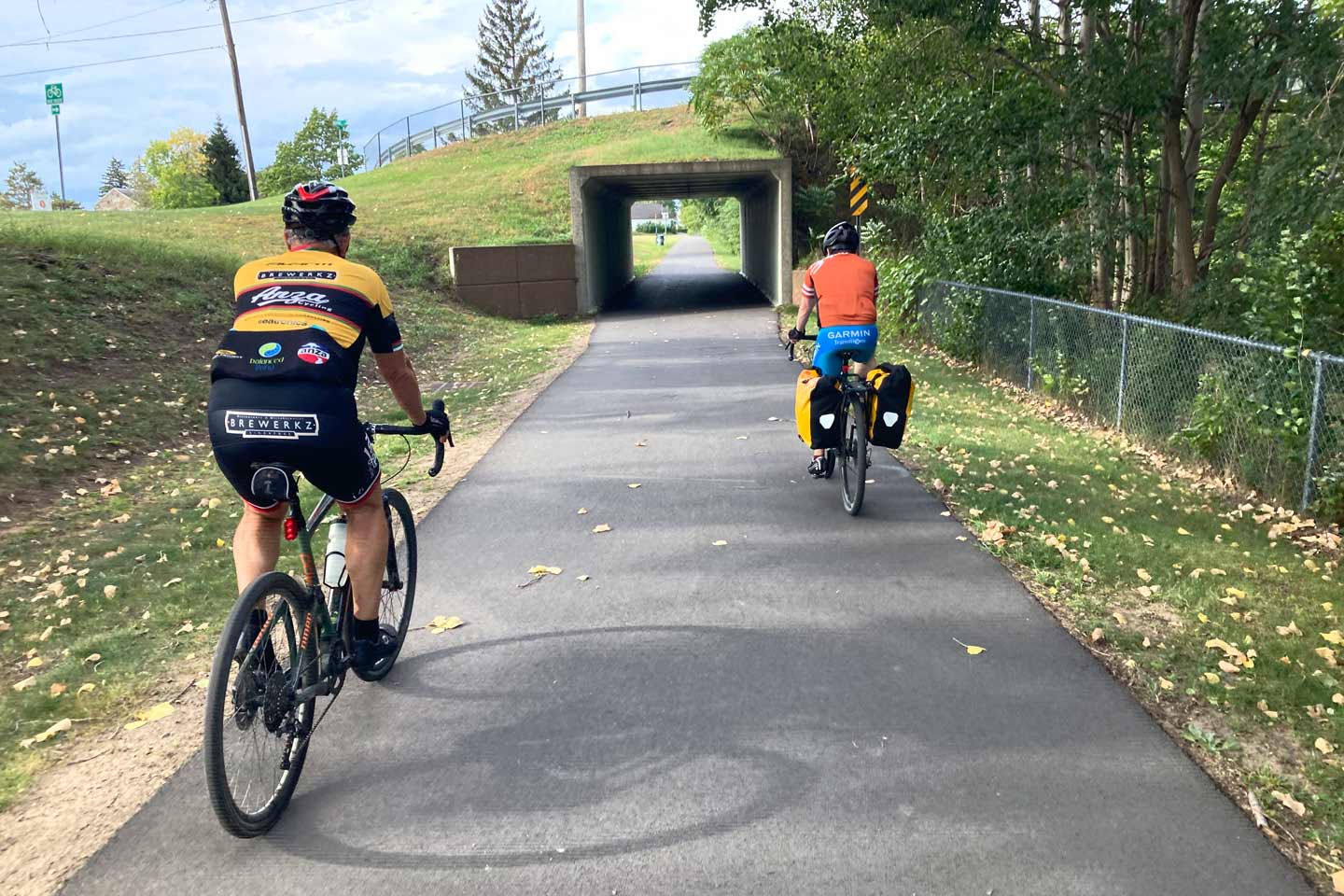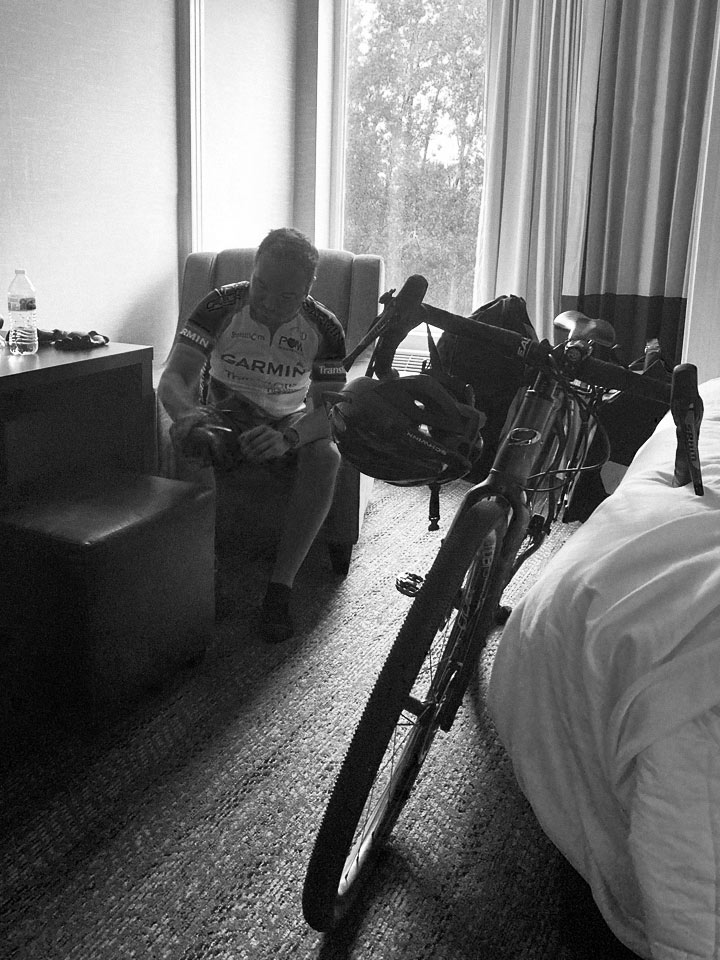 Unsatisfied with the dinner and drinking options in the immediate vicinity, I showered, hopped back on my bike, and retraced my steps to Valcour Brewing Company, a nice little brewery and restaurant that we had unfortunately ridden straight past an hour earlier. I returned to the hotel with food and beer in hand, which we enjoyed while watching Jurassic Park.
It rained overnight and into the morning, but the showers stopped and the sun emerged as we set out.
We got a good cup of coffee at Chapter One Coffee & Tea, drinking it in a park overlooking the Saranac River. From there, our path took us through the industrial outskirts of northern Plattsburgh, past beaches and cornfields, to Cumberland Head.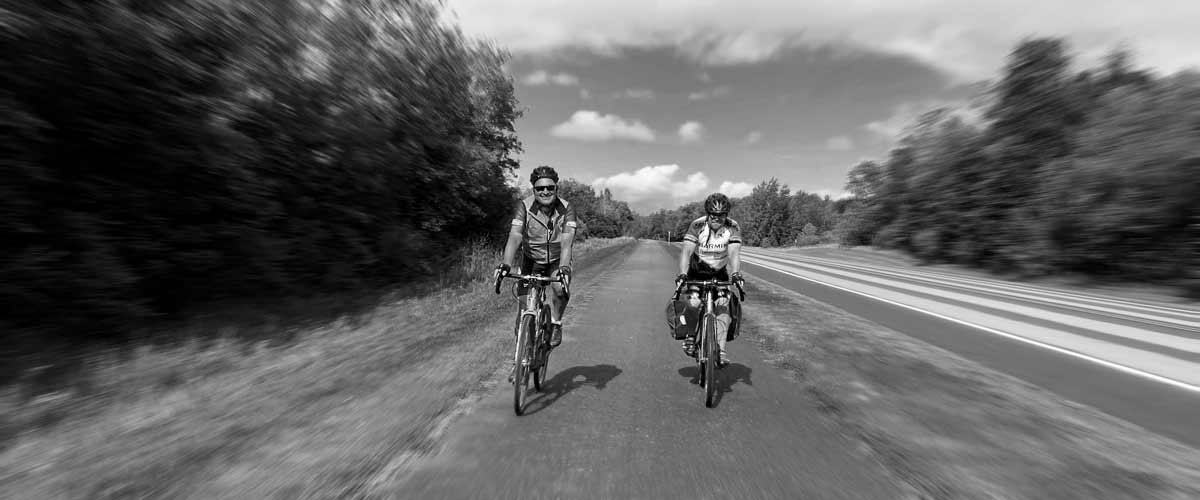 We caught our second ferry there, a sunny, windy ride to Gordon Landing in Vermont. During the passage, we remarked on the strangeness of being spattered by fresh water waves, having become accustomed to the crustiness that comes from sea spray.
After riding through more cornfields, we took a break at what became our favorite stop on the entire trip: Kraemer & Kin, a nanobrewery in a converted church on the island of North Hero. 
Everything about it was pitch perfect, from the Mississippi John Hurt playing inside, to the fabulous a varied beer, to the charcuterie board that we sampled with our second round of drinks. 
To live is to suffer. To live well is to suffer terribly.

- A. Cook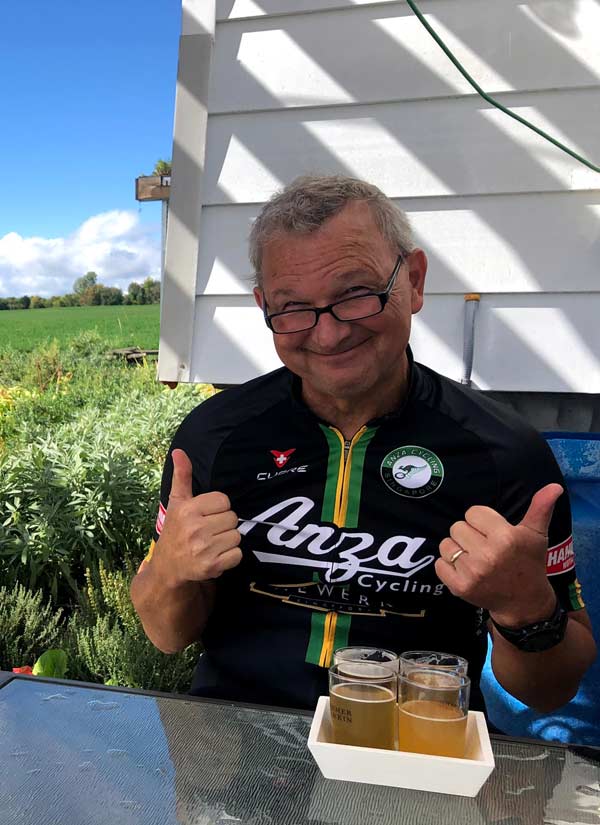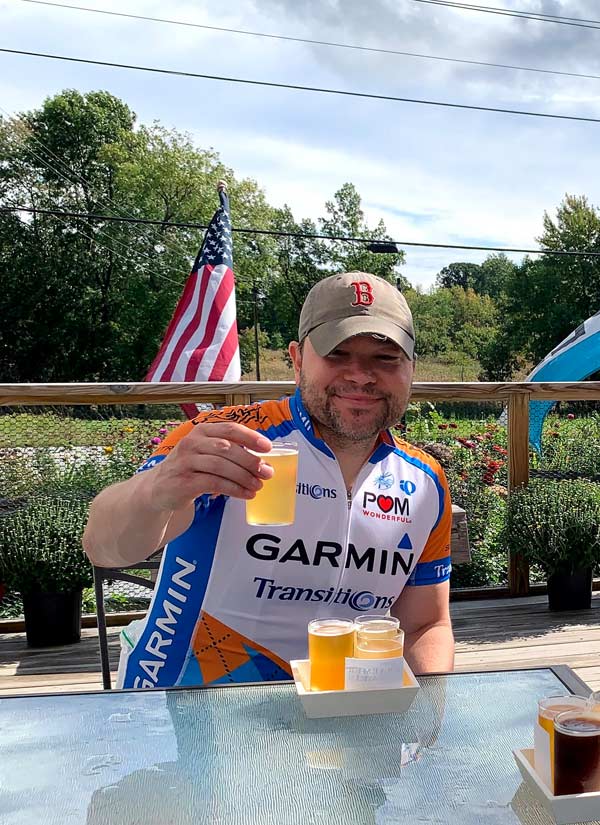 We spent a couple of hours there, then made our way down the road for sandwiches at a general store called Hero's Welcome, which included color-coded benches for Democrats and Republicans outside. The rest of the ride took us through a few sparse towns and orchards smelling of ripe apples, then finally over a long bridge back into New York.
My brother took an extra ride a few miles up to the Canadian border (where he was denied entry), while Dad and I tried to settle in at our motel in Rouses Point, NY. Next to our room, there was a large pickup truck with at least three Confederate flag decals and a sticker declaring "Redneck Lives Matter".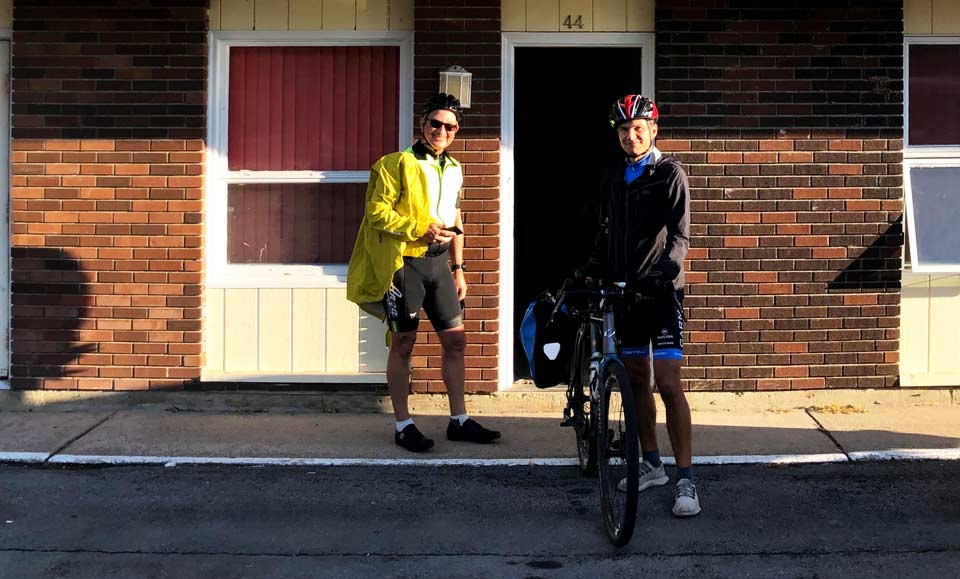 We tried to spend as little time there as possible, and had a decent meal at the only open restaurant in town, Angelo's Pizza & Grill. 
In the morning, we grabbed some serviceable java and breakfast from Lakeside Coffee, the only coffee shop in town, and headed back the way we had come the previous day. 
For a snack, we munched on three tasty apples that Dad grabbed from a roadside tree. We were too early for a second stop at Kraemer & Kin, but did stumble across Snow Farm Vineyard & Winery. We took the opportunity to taste a flight, reminiscing about the Omata Estate Vineyard in Russell, NZ.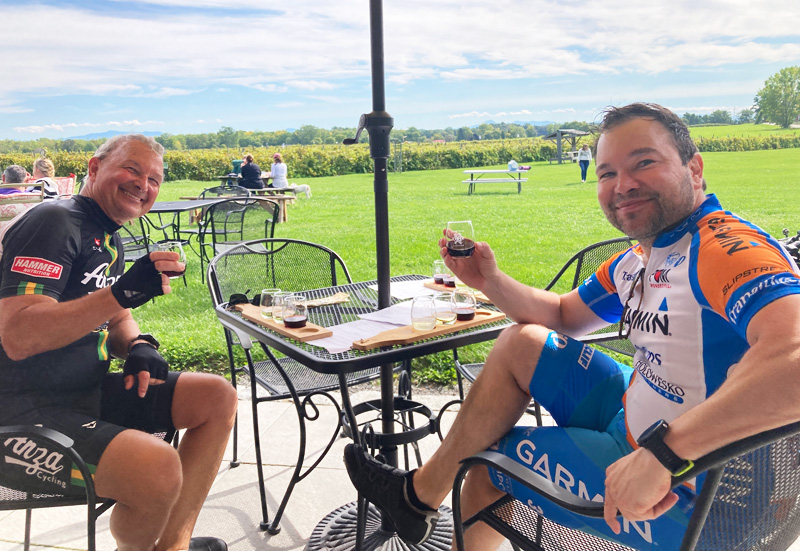 We had a beautiful ride into Burlington. The Lake Champlain Causeway runs like a thread between South Hero island and the mainland. Banked by rip-rap and covered in crushed limestone, the Island Line Trail runs the length of the causeway. About halfway, there is a cut to allow boats through. We dismounted our bikes and boarded the Local Motion Bike Ferry for the 2-minute ride to the other side.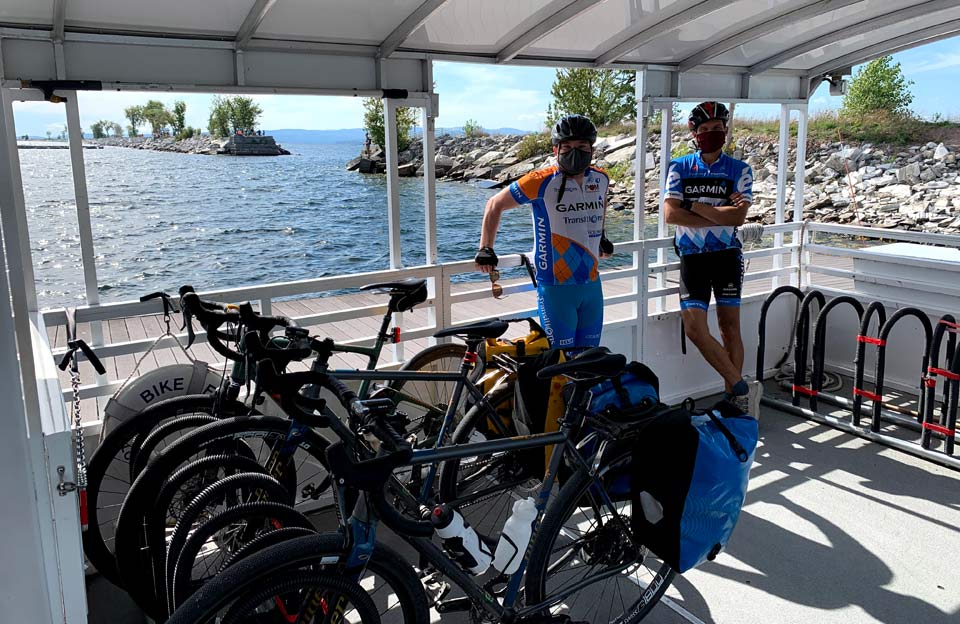 The last section along the causeway was some of the best riding of the trip, with Lake Champlain stretching out to mountains on both sides, and a warm sun high in the sky.
Once we reached the mainland, the path became more congested. We considered a stop at a brewery, but were deterred by big crowds. It was just as well, since the climb into South Burlington was the steepest of the day. Too soon, we were back at the Windjammer, where we showered off and headed back into town for a celebratory meal at The Farmhouse. Much cheddar soup was consumed. 
In the morning, A and I had a nice 12-mile marathon training run before packing up and leaving for the airport. It was a good, active way to end the trip, and running felt almost like a relief after so many days riding.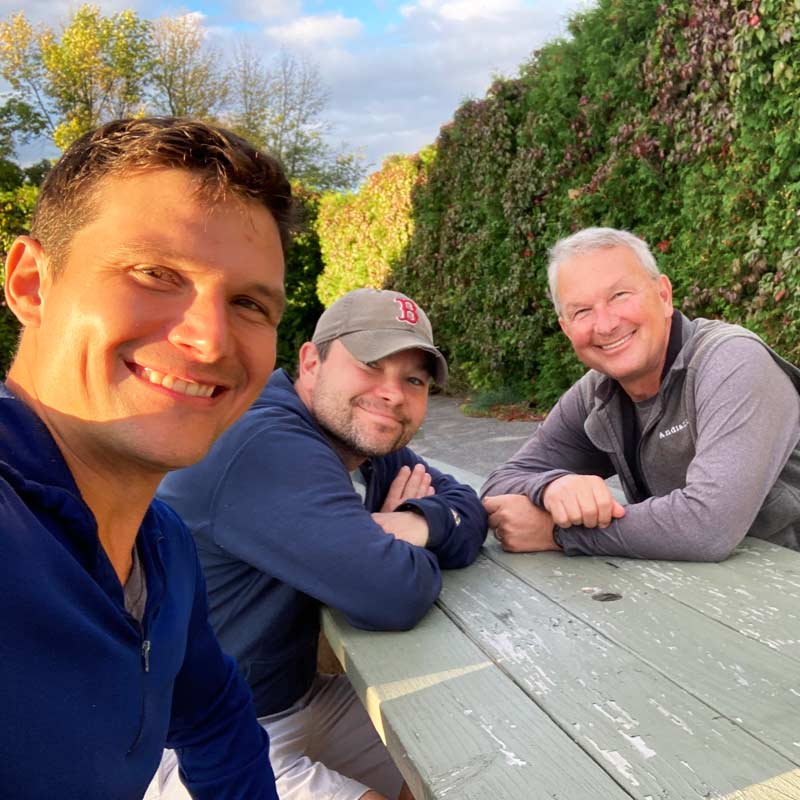 It's always s a pleasure to spend a few days in the company of these men. Our conversations ranged from IQ and EQ to public education, to politics, to the character of the towns we passed through, and a laugh was never far away. I'm already looking forward to the next trip.