2 October 2012
EnvisionFest 2012
This past weekend, I took the train north to Hartford. After spending the day on Friday working from La Paloma Sabanera, I enjoyed the Tapping Into Twain fundraiser run by my friend Julia (of the best improv troupe in CT), Saturday was all about EnvisionFest.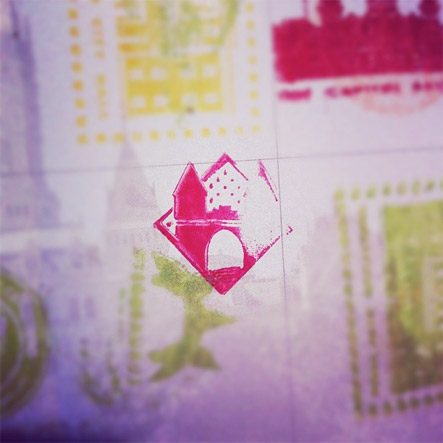 A few months ago, I was commissioned to design stamps for the EnvisionFest passport, which included 13 original stamps depicting Hartford's cultural landmarks, as well as three stamps I'd already made for institutions that participated in the Hartford Museum Passport. Passport stamp design seems to be emerging as my niche, and that's just fine. I think the sharp edges, simple shapes and typographic requirements suit my style. Stamp development also challenges me to come up with strong metaphors and clear renderings that can be expressed in a single color, which improves my mechanics and attention to detail.
The analog nature of a passport and stamps is another thing that I particularly enjoy. Each stamp becomes unique depending on how much ink is trapped from the pad, the force with which it's pressed into the paper, and the way the ink seeps into the paper (or doesn't quite, in the case of the EnvisionFest passports). I was pleased to walk around the city, seeing festival-goers requesting stamps and hearing several positive comments about the designs. Those comments were particularly gratifying since the commenters didn't know I'd designed them.
Below are all of the stamps for the EnvisionFest passport.